Downtown Ithaca is host to an impressive array of events, activities and exhibitions, 
including the city's many festivals which flood the spacious venue sometimes spilling out 
onto the adjacent streets.
Every season offers exciting entertainment opportunities. Catch a film at Cinemapolis, a 
distinctive and independently owned movie theatre; or see a performance at the beautifully renovated and historic State Theatre.
Touted in the New York Times as one of America's "Best Emerging Cities," Ithaca is unquestionably the ideal playground for all.
Areas to Explore
With a variety of unique neighborhoods to explore, the opportunities to discover downtown are endless!
Entertainment & Attractions
From sold-out headline shows at the historic State Theater, to art house theater productions, to local live music and a vibrant nightlife, there's no end to the entertainment Downtown Ithaca has to offer! Take a walking tour, explore our infamous waterfalls and gorges, or extend your experience beyond downtown to experience the Finger Lakes.
Explore Entertainment
State Theater
107 W. State St. | (607) 277-8283
Ithaca's Historic State Theatre had its opening night on December 6, 1928. The building dates to 1915 and was originally an automobile garage and showroom. Today the 1600 seat State Theatre offers a calendar of events featuring performances of nationally recognized performers, outstanding regional groups, dance companies and theatre troupes. With the non-profit theatre's dedication to historic preservation, the building continues to be renovated while hosting dozens of events each year.
Cinemapolis
120 E. Green St. | (607) 277-6115
Where can you see more Oscar winning films plus all of your favorites? At Cinemapolis, Ithaca's independent first-run movie theater. Cinemapolis hosts evening movies plus Saturday and Sunday matinees. The theater also features an array of special events. Check the website for details. Cinemapolis has been a staple in Ithaca's downtown community for 25 years. In 2009, Cinemapolis opened its doors to a brand new, stadium seating theater with great success. The combination of beautiful space and new programming has made it Ithaca's premier movie theater. Their unique concessions include the best popcorn in Ithaca as well as baked goods, and Ben and Jerry's ice cream. Cinemapolis is located at 120 East Green Street in the Green Street parking garage complex.
Kitchen Theatre
417 W. State St. | (607) 273-4497
With a full lineup of productions, the Kitchen Theatre is, "Bold, Intimate, and Engaging". The Kitchen Theatre challenges the intellect, excites the imagination, informs, and entertains. The Kitchen Theatre Company nurtures a community of diverse artists and brings excellent art to the Ithaca community.
Hangar Theatre
801 Taughannock Blvd/Rte 89 | (607) 273-8588
The Hangar Theatre is a professional regional theatre that opened in 1975, in a renovated municipal airport hangar. The Hangar Theatre is located just 2 miles from downtown Ithaca on Route 89 at the Treman Marina entrance of Cass Park.
Cayuga Chamber Orchestra
110 North Tioga Street, Suite 302 | Ithaca, NY 14850
Officially designated as "Ithaca's Orchestra" the Cayuga Chamber Orchestra has been sharing vibrant, live classical music for all ages since 1976.  In addition to an Orchestral Series, Chamber Music Series and free Family Concert & Storytime events, the CCO offers a Youth Orchestra program, Diversity Fellowships, and the award-winning Willard Daetsch Youth Outreach Program.
Ithaca Murals
Ithaca Murals is a network of people transforming gray walls into beautiful meaningful works of art that tell stories of the diverse people who live here and what we care about
For a mobile walking tour of art downtown download the Free Pocketsights Mobile App to your smartphone.
Learn More & Take a self-guided Tour!
Carl Sagan Planet Walk
Center of the Ithaca Commons - Sciencenter
The Sagan Planet Walk, a scale model of the Solar System, is named in memory of Carl Sagan, a respected scientist and member of the Ithaca community for nearly 30 years. The Sagan Planet Walk seeks to inspire wonder about the immense scale of the cosmos and our precious and fragile relationship with it. The model, at 1 to 5-billion scale, just exactly fits in the 1,200-meter distance between the Ithaca Commons and the Sciencenter.
Ithaca is Foodies Culinary Walking Tours
www.ithacaisfoodies.com | (607) 272-4830
Delve into the heart of Downtown Ithaca on a guided walking food tour! During a three-hour culinary adventure, enjoy inventive and delicious food paired with a local's knowledge of Ithaca's history and culture.
Experience the Finger Lakes
experiencethefingerlakes.com | (607) 233-4818
Experience! the Finger Lakes offers guided tours and events around the Finger Lakes.  Tours features exquisite wines, farm-fresh cuisine, stunning lakes & waterfalls throughout the Finger Lakes region.  Book a tour during your visit in Ithaca, tours can even be booked leaving from Downtown Ithaca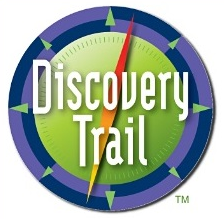 Discovery Trail
Cayuga Nature Center
8 world-class locations in Ithaca connecting science, nature and culture. Cayuga Nature Center, Cornell Lab of Ornithology, Cornell Plantations, The History Center, Johnson Museum of Art, Museum of the Earth, Sciencenter, Tompkins County Public Library.
Tompkins County Heritage & Cultural Center
The all new Tompkins Center for History and Culture is a vibrant cultural destination on the Commons in downtown Ithaca, NY delivering engaging multimedia exhibits and program experiences on local and regional history.
It is located at 110 N. Tioga Street on the Commons, right in the heart of downtown.
Visit The History Center Website
---
The Downtown Visitor Center is also located inside the Tompkins Center. Looking for information about things to see & do in Tompkins County?


Visit Ithaca Website
---
Public Transportation
Tompkins County Consolidated Transit (TCAT) provides regularly scheduled bus service throughout downtown and Tompkins County. The main downtown bus stops are located on the southern and northern sides of the Ithaca Commons at the Green St. Station and the Seneca St. Station.
A convenient shuttle route (the #10 line) takes passengers to and from Cornell University every ten minutes between 7:30am and 8:00pm Monday - Friday. The shuttle departs from the Seneca St. station, located at the corner of Seneca and N. Tioga.
More Transportation
---
Where to Park
Free parking: On weekdays, 8:00pm – 3:00am in the garages and 6:00pm – 3:00am on the street.
All day Saturdays & Sundays except when special event parking rates inside the garages apply.
The Green Street Garage is closing mid-March 2021 for reconstruction.  Learn more about the project HERE.
Explore Parking
Where to Stay
Lodging options abound in downtown Ithaca, with great stays at locations such as the historic William Henry Miller Inn, the 10-story Hotel Ithaca, the newly built Marriott on The Commons, or the downtown Hilton Garden Inn. Quality accommodations in the surrounding area run from cozy bed & breakfasts - many within easy walking distance to the center of downtown - to comfortable hotels that offer the latest in services and amenities you want at the value you expect.
Our Accommodations